The technology I use to create my work is quite different from the traditional mediums known in art.
Yet, I will explain how extremely close my techniques are to a traditional approach. I simply use the computer as a tool, just like a photographer uses his camera, or a painter his brush. For me, the computer is my camera, brush and canvas.
It opens a whole new world of possibilities for me as an artist to work with a medium that is so exciting and new.
Each work is created with 3D-software. I fuse the latest technology with traditional techniques. Instead of making sketches, I always work from imagination. When I start sculpting in 3D-software I let the idea evolve in a natural way. Sometimes a work takes a completely different direction. Often it almost becomes an exact blue-print of my mind. Sculpting in 3D-software is like working with clay or stone. Just like a sculptor or model-maker I slowly create my ideas from scratch. I work on a Wacom-tablet and with my pen tool I create my sculptures displayed on my computer monitor.
I can work weeks, even months on a sculpture before I consider it finished. From there on I can take two directions; import my digital 3D-sculpture in rendering software and start creating a digital painting which, when finished, will be printed with archival inks on museum quality cotton paper. Or, I let a professional 3D-printer create a real sculpture from my digital file, which then will be hand-painted with acrylics. Both directions go through a whole creative process and take a considerable amount of time. I also make use of antique materials like glass domes to display my sculptures. I like that particular feeling of decay in my work.
Results from the 3D-printer, printed in high resolution ultra fine detail.
When I create a digital sculpture, the work only exists in virtual reality. I can rotate it, zoom in, work on it in the utmost detail but there is always the inventible distance between me as a living person and a computer screen. But when my digital creation becomes 'real', that is such a thrill.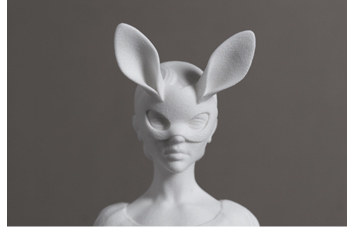 The painting approach I choose is a meticulous process of building-up thin layers of transparent paint.
It all starts with a high poly sculpture I make in 3D software.
Although everything is made in a digital environment I still use very traditional skills to create my art. What I create on my computer is extremely close to real sculpting and painting techniques.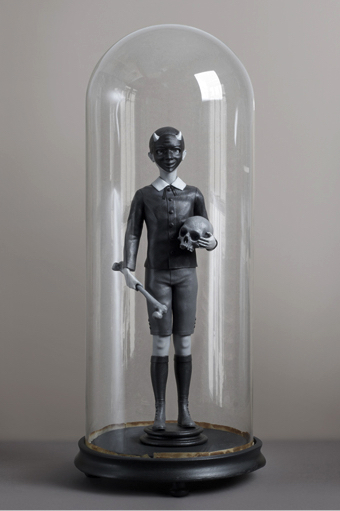 Finished sculpture under antique glass dome.
Process of a 3D-printed sculpture.
Process of a digital painting.
Like with a 3D-printed sculpture, it all starts with a high poly sculpture I make in 3D software.
The finished digital 3D-model will be imported in 3D-rendering software. With rendering software I can set-up a studio-like environment in where I add a camera, lights and textures. It usually takes a lot of adjustments and experimentation before I am happy with the right atmosphere of the scene.
When everything is ready I render the whole scene, that means that the computer will make a 2D-image from the 3D-scene I created. The rendered 2D-image will then serve as a basis for further digital painting, texturing and adjusting until the work is completely finished. The final digital painting will then be printed in the highest possible quality with archival pigments inks on museum quality cotton paper, so called 'Giclee' or 'Pigment print'.
More 3D models imported, such as the background
and pig heads. Various light points are added.
Final image with textures added, rendered and digitally painted in high resolution.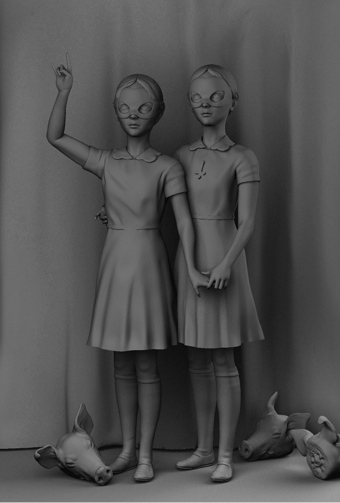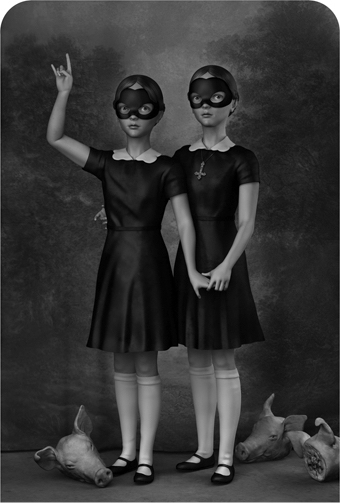 Digital sculpture imported in rendering software. Camera in position. No lights, textures or background added yet.